About Us
We as Marketing Agency care about our clients
We are locally based company which helps small business to achieve their goals. We have experience of years in Social Media Marketing and SEO ( Search Engine Optimisation ) for any search engines like Google, Bing, Yahoo etc.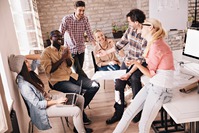 When it comes to a new project, we insert all our creativity, technology that we use and techniques we learned over years. We are trustworthy company as we care about our brand too.
Contact us today for a free consultation.
Be the first to read what's new!